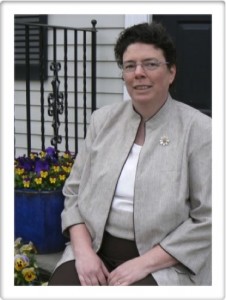 Many who know me call me the Energizer Rabbi because they aren't sure how I do what I do but I keep going and going and going. Others call me Margaret. Still others use my middle name: Joy.
I live with my husband, Simon in Elgin, IL. I am the rabbi of Congregation Kneseth Israel, a congregation that was founded in 1892 but is fiercely independent and modern. Committed to lifelong learning, meaningful observance, creating community and embracing diversity, the congregation enriches our lives as together we welcome everyone to experience the joy that Judaism can bring.
Recently Hallows Press published my book: A Climbing Journey to Yom Kippur: The Thirteen Attributes of the Divine. It is a guided journal to help people prepare for Rosh Hashanah and Yom Kippur. I am excited about the 20 voices that are included in the discussion–and the photos that I have taken personally while hiking. The cover photo, for instance, is of Mount Sinai at sunrise when I was 16!
Since coming to Elgin, I have joined the Coalition of Elgin Religious Leaders, the 16th Circuit Court Faith Watch on Domestic Violence, and the U46 Clergy Council. I have returned to running and ran the Disney Princess Half Marathon to raise money for the Leukemia and Lymphoma Society. I was recently named as a Global Justice Fellow by American Jewish World Service. While I was  looking forward to exploring Kenya while learning about how to mobilize my congregation here to do Tikkun Olam, repairing the world, I am excited to explore Guatemala instead.
Together with my husband,  we are creating a uniquely Jewish home together. We recently moved from Chelmsford, MA where we  had enjoyed cooking, reading, hiking, kayaking, visiting National Parks and watching University of Michigan football. Together we have a daughter who is recent college graduate from Hofstra University on Long Island. She is pursuing her passion for theater in Los Angeles. I have three step-adults and we try to celebrate as many holidays and life cycle events together as possible considering they are spread out from Massachusetts to Virginia and California.
It wasn't always this way. As a young child, my family did not belong to a synagogue. My parents couldn't find one they agreed on. However, we celebrated all the Jewish holidays (and all the secular ones too!). One of my first memories is learning to sing Dayenu. In New York I attended Temple Emanuel Nursery School on 5th Avenue and loved going to the children's zoo in Central Park and playing in the rooftop playground. In Evanston they were instrumental in The North Shore School of Jewish Studies, a Sunday morning program run by the faculty of Northwestern to teach Jewish history, culture, ethics but not Hebrew or religion. In Grand Rapids, we joined Temple Emanuel where I celebrated my Bat Mitzvah and Confirmation, sang in the adult choir and was an officer in the youth group. I was also very active in Girl Scouts in both Evanston and Grand Rapids, earning my First Class award. In college it seemed natural that I would become involved in Hillel and joined my first weekend at Tufts. There were so many interesting Jewish programs to attend in Boston that I enjoyed exploring almost to the detriment of my grades. Attending Simchat Torah services was a life changing moment. I saw the joy that the Hillel rabbis brought to the bima that night and I said, "I want to be a part of that". I spent junior year in Israel on a Brandeis program and studying in a yeshiva.
Since college I have earned a Masters in Education at Tufts and in Jewish Studies at Hebrew College. I was ordained  a rabbi at the Academy for Jewish Religion in New York on May 13 of 2010.
I have served as a Jewish Educator at Temple Emanuel of the Merrimack Valley, the Manchester Jewish Community School and Congregation Tifereth Israel. I have worked at the Heritage, a Jewish assisted living community, Refugee Immigration Ministry, and Congregation Shalom as their rabbinic interns. I was the Answer Rabbi for the Jewish Appleseed Foundation. I was privileged to be the rabbi for Yom Kippur in Hameln(Germany) and it was a powerful experience.
I have been mikveh guide and educator at Mayyim Hayyim, the community mikveh in Newton, MA. I try to emulate their approach to making every Jew feel welcomed and supported and where they intentionally strive to create a safe, non-judgmental space for marking life transitions. I have learned so much because of my affiliation with Mayyim Hayyim. I was a Girl Scout leader and trainer through college until my daughter's senior year of high school and loved sharing my love of nature and camping with girls.
Tikkun Olam, repairing the world or social justice is a very important part of my life. It is not uncommon to find me and my husband working at a soup kitchen on Sunday afternoons or helping to build a Habitat or Humanity home. We have participated in Habitat events in five states and look forward to doing more. Building homes and feeding the hungry is not enough–we need to pursue systemic change and I have been proudly affiliated with such organizations as Merrimack Valley Project which founded on our dining room table. Interfaith Dialogue has been an important part of my own growth and development and it comes out of my commitment to not allow another Holocaust and to fulfill the commandment, to seek peace and pursue it. It is not enough to sit idly by. There is so much more that unites us than divides  . I have learned so much teaching non-Jews and sharpened my own understanding in the process. Some of those relationships have led deep ties and even deeper, lifelong friendships.
Like the rabbis of old, I have had a trade in addition to being a rabbi. While pursuing my graduate degrees I have worked in the technology industry in sales, marketing and strategy roles. Now, I continue to build my consulting practice while serving the Jewish people.